Implement these practices for the best looking lawn and yard
More efficient watering:
Try watering in "cycles". Instead of watering all at once, break it up into 3 or 4 cycles. For example, if you currently run a station for 30 minutes break it into 3 ten-minute cycles. In other words, set multiple start times for your automatic sprinkler system and divide the total time between them. Why this helps – this allows the water to soak into the soil and get into the root zone and minimizes runoff. By having moisture deeper into the soil, you can go longer between waterings.
"Sharper" looking mowing:
A dull mower blade makes the lawn look ragged and dry. If, after mowing, the lawn takes on a white color, the culprit may be the mower blade. Have it sharpened and notice the difference!
Mow in different directions:
Instead of mowing in the same pattern each time, go the opposite direction.  This helps the turfgrass to stand upright instead of laying flat.  Upright grass blades appear darker green whereas those at an angle reflect light causing a lighter appearance.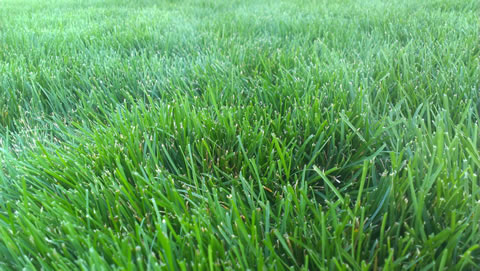 Fruit Tree Pruning 'How-To' Videos
Peach Tree Pruning
Apple Tree Pruning